Adventists Clean Up The Environment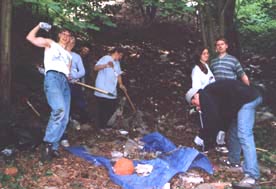 TARTU, ESTONIA. Seventh-day Adventist Church members in Tartu, Estonia, organised an Environmental day on Sunday, 2 June during which they cleaned up a small valley in Tartu that was used as a dumping ground for years by some of the locals.
The Tartu City Cleaning Service suggested that church members clean up this valley. Madis Tammeorg, head of the City Cleaning Service said that "this beautiful valley could become a place for the Tartu people to come with their families to rest and enjoy the beauty of nature."
"Those who took part in the Tartu valley cleaning worked really hard and found different kinds of interesting trash," commented Lauri Beekmann, communication director for the Adventist Church in Estonia. "The work was not easy as the territory was hilly and it was hard to transport the waste, but two huge containers were filled."
The Adventist church magazine "Our Times" came up with the idea of an Environment day dedicating the June issue on the subject of "The Christian and the Environment". Staff of the monthly magazine invited readers and church members to be active in cleaning up nature around them. As a result Adventists from various towns organised some kind of environmental activity such as beach cleaning and cleaning a sporting track used for jogging in the summer and skiing in the winter.
Lauri Beekmann/ANR Staff/ANR 073
Lauri Beekmann,
Estonian Conference Communication Director