100 Year Anniversary of the Seventh-day Adventist Church in Estonia
On the September 12 and 13, 1997 in Tallinn was held the 100 year anniversary of Seventh-day Adventist Church in Estonia. The motto was taken form Hebrews 13:8 — "Jesus Christ is the same yesterday, and to day, and for ever."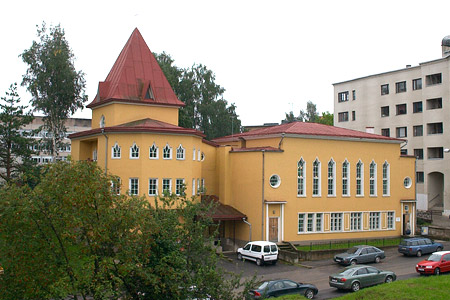 Sermons on Friday at 7 p.m. and on Saturday at 3 p.m. were preached in SDA Tallinn Church and on Saturday at 10 a.m. and 6 p.m. in neighbouring Russian Cultural Centre.
We had more than one hundred guests from around the Estonia and from elsewhere. We were conveyed friends' greetings from Latvia, Finland, England and the USA.
In addition to spiritual food given by the president of Trans-European Division Bertil Wiklander, president of the Baltic Union Conference Valdis Zilgalvis and Sabbath-school head of Estonian Conference Rein Käsk, we were presented truly uplifting musical experiences by the Estonian-wide Oratorio Choir with soloists Aita Kriik, Volli Rosin and Ivar Judanov. Conductor Roland Kasvand had done hard work with choir and orchestra — many said so later.
In Saturday evening sermon we were given addresses of welcome by president of Finland Union Conference Pekka Pohjola, president of Estonian Council of Churches bishop Einar Soone, superintendent of Methodist Church Olav Pärnamets and the pastor of SDA Colorado Church in America Everett Cumbo.
Here are opinions of some Adventist church members, what they thought about happened events:
Karmen (21):
I liked the selection of music – the best of spiritual hymns.
Revo (26):
The sickle and hammer above the stage disturbed me. (PS. The former Arms of Soviet Union placed these symbols there).
Angelika (20):
At the end of the Saturday evening sermon was a real jam that people stood up during the last collective spiritual song like in olden times.
Kaie (27):
I remembered words of bishop Einar Soone, who said that traditions usually are formed by one hundred year and now we count Adventist Church also as the traditional church in Estonia.
Maimu (23):
It could have lasted longer! It came to an end so quickly!
Kalju (47):
I remember two very good speeches, spoken by Rein Käsk and Bertil Wiklander. The message was about revival and we really need revivalism. Also the main idea of Sabbath school lesson – forgiveness – was good and essential.
Piret (27):
I enjoyed most the solos of Aita Kriik and Ivar Judanov. It was clear that they were professionals!
Aive (27):
I liked especially the speech of Wiklander – he spoke so clearly and concretely about important things like "the coming of Jesus Christ is so near". We should think about these things every day!
Mati Ploompuu,
Estonian Conference Communication Director