Adventist Teens Publish First Christian Teen Magazine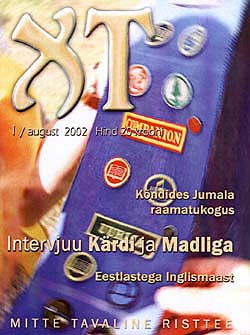 TARTU, ESTONIA — [ANR] The first Christian magazine for teenagers in Estonia entitled XT, published by the Seventh–day Adventist Church, saw its release on 10 August, reports Lauri Beekmann, XT editor and communication director for the Adventist church in Estonia.
The articles in this 44–page magazine printed in A5 format and published bimonthly — with its motto "Not a regular crossroad!" pointing to the crossings that young people face every day — is mostly written by Adventist teenagers in this Baltic country. With the language understood by their peers, the teenagers share their own thoughts and experiences that have brought them to this cross road. Amongst the XT editorial team are teenagers who have found that there are pleasures in life that do not end in trouble, and that can be enjoyed with a clear head the following morning.
"The goal of XT is to play a balancing role in our colourful media landscape, which, unfortunately, does not always introduce the best examples for young people," explains Beekmann. "Through this magazine, we are hoping to reach teenagers — both inside and outside of the church."
"We hope that XT can be of help for young people to find their way to Heaven," said Riigo Hallang youth director of the Adventist Church in Estonia. "But, of course, it can only help. Every youngster needs to make their own personal commitment to follow Christ."
Beekmann is delighted that young people are so involved in the production of XT. "It's quite a hopeless mission to do something for the teenagers if they are not active in it themselves," he said. Kristjan, 15, son of Pastor Rein Kalmus of the Rakvere church, is responsible for the church history column. "He was up almost the whole night before the deadline," said his father. "But he finished it; and he did well!"
The idea of producing a magazine for teens written by teens, was brought up at a teen camp organised by the communication department of the Estonian Conference about four months ago. During camp, the teenagers were encouraged to speak freely on some of the unique challenges they face, their interests, and what they would like to be involved in. "They got really excited about the idea of this magazine," said Beekmann. "It is not the easiest thing to make the right choices in life as a teenager, but within the pages of XT we have invited professionals to help guide and lead the young people to make the right choices so that they can live happy and fulfilled lives — according to God's plan."
XT was sent to the youth departments of all the Christian churches in Estonia with the hope that they would be interested to use it for their teens. The magazine includes serious articles about the Bible, news about science, Internet pages, movie reviews, discussions on relationships, interviews and, of course, entertainment — jokes, games, comics, etc.
The circulation of the first edition was 175. "This figure may seem really small," says Beekman. "But if you live in a country where there is only one million Estonian speaking people, then I guess it's hard to expect much more this first time round. However, we are working on getting a larger circulation list which will also help in reducing the cost of the magazine. But for teens it is a sure thing that if there is no way, there is always a way! So I will try to keep up with them!" concludes Beekmann. [ANR Staff with Lauri Beekmann/ANR 111]
ANR Staff with Lauri Beekmann