Building "Bridges of Hope": Crisis Management Training Taken up by the Church Leaders in the Baltics
Monday, May 26, Riga, LATVIA. Crisis management and its implications for the Adventist Church brought together church leaders from the Baltic Union Conference, Estonian Conference, Latvian Conference and Lithuanian Mission for a day of training and reflection. Although this subject is not new to a corporate world, it was the first seminar for the church leaders in the Baltic countries. The training activities, which included working on reality scenarios, were conducted by Ray Dabrowski and Miroslav Pujic, communication directors at the Seventh-day Adventist World Headquarters and the Trans-European Division, respectively.
We asked Ray Dabrowski to explain what is involved in communication for the world church We also wanted to know how church leadership values crisis management, and how well it is prepared for a crisis situation when it comes.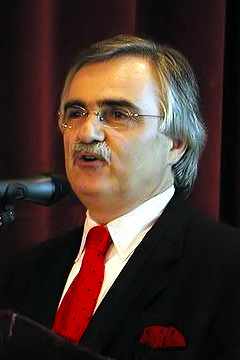 — This being your first visit to the Baltic countries, what are your first impressions here in the Baltic countries?
— Coming to a Baltics obviously was full of expectations. Since I grew up in Poland and with Lithuania, a neighboring country to Poland, we have a common history, I was saying to myself: What am I going to see? The Baltic countries are the newcomers into the contemporary Europe, shedding the dark days of a system that has not allowed fully and freely appreciate each other's culture, each other's experience and participate in each other's visions for the future. I saw that the traditions of yesterday continue to be much present today, but — there is this surge into tomorrow which one appreciates. As a Seventh-day Adventist one appreciates this looking into the future. In Latvia and Lithuania, in the Baltics, I am seeing an expression of a new life and a future. Hospitality is incredible here, and I felt at home.
— You are working at the Adventist church world headquarters. Can you describe your work as a communication leader of the Adventist worldwide church?
— Everyone working at the General Conference looks at the total picture of the world church. And after joining the staff I have become aware of a wonderful diversity of our church. It is one family around the world, but diverse in its various expressions, and that's the beauty of God's church. My work involves facilitating that which is important to fulfill the mission of the church through the contemporary communication means that are available to us–communicating among ourselves that which is important to us, sharing in the common experience; but, above all, taking care that we would use the media, we would use the skills and the talents that we have in the church to take our story outside of our walls. We have a mission statement: «Building bridges of Hope», and we are involved in sharing it through the message of hope.
One of the aims of communication of Seventh-day Adventist church I believe is that we as
Seventh-day Adventists would recognize ourselves as members of the community in which we already are. And that we would attempt and be creative about it, to share that which is important to Adventism with other This we would do that their lives would become different, better. Sometimes we resort to the view that hope is about tomorrow — I believe that hope is about being an active Christian today.
— We had one day of leadership training in crisis management…
— Communication ministry of the church is not only doing public relations or reflecting on reality and then reporting about it. Today, communication requires variety of new disciplines today, not only to be aware of, but actually put into use. We live in a society that is very well organized, those who are looking at the church from the outside are expecting the church to be an example of propriety, well functioning, stable, and this means being very intentional about its message, and of course, see the message and the practice of it walking hand in hand.
Professionally speaking, today's world requires us to be vigilant about issues and problems. One of the more recent disciplines in communication is crisis communication. So here in Riga we had a day set aside for the leadership of the church in the Baltic countries to look at issues involving crisis management and how the church can organize itself ahead of potential situation and deal with such efficiently. We asked ourselves, What can we do today to prepare ourselves for an eventuality of a crisis — a crisis that could happen within the church, or crisis that could impact the church, whether we are talking about a disaster, or perhaps some mishappening within the organization. The church is better off if it can prevent the crises as it prepares itself for it.
Sometimes we cannot prevent crisis altogether, but by preparing ourselves, by knowing how to respond to it, how to manage it, and what message to give as we are dealing with the crisis, that is helpful. In the today's world you have to expect such things to happen, and church does well when it is prepared to expect also the negative.
— What is your impression of the results of this training? Is church leadership ready to deal with the crisis if it would arise?
—I think that response was very positive as far as I am concerned. The leadership group responded very well. I am sure that some participants were not sure at first, which is not unusual in such a situation — "What am I going to say?!", "What to say that is proper?" There was a very healthy discussion, so I think it was a well spent day together.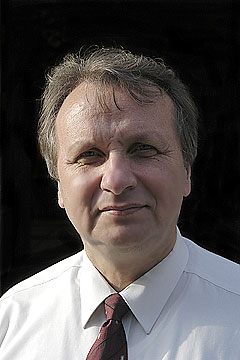 At the end of the day all church leaders were satisfied with the results of this seminar. We asked president of the Baltic Union Conference Valdis Zilgalvis to share his impressions about crisis management seminar.
— I think that this seminar was very needful, it was in the right time, and actually we had to plan such seminar some time ago. From time to time we have crisis situations in our church, and we try to solve these crises according to our knowledge. It was very substantial that we could learn how to prevent crises before they arise, not only how to deal with them when they hit us. We could learn how to prepare ourselves for a crisis, how to manage it without falling into panic and how to deal with it in a proper way. It was very needful seminar for our leaders. I would like to express my gratitude to the Communication Department of the Trans-European Division and General Conference for their service and ministry for our churches in the Baltic countries.
Guntis Bukalders,
Baltic Union Conference Communication Director