Latvia: Young Adventist Musician Shines on Folk Music Scene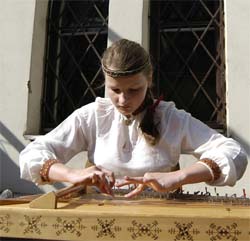 May 27, 2003 Riga, Latvia. While her peers are opting for learning how to play a piano or violin, 16-year old Liva Zilgalve is getting laurels playing the kokle, a 30-string instrument popular among the national folk scene. Zilgalve, whose proficiency shone at the 2002 national competition in folk music for young musicians, was awarded first prize.
Zilgalve's professionalism shines on the folk as well as the classical music scene. She is a member of the "Abalsis" quintet, and is invited to perform at national musical events. Her latest performance was connected with musical and cultural events surrounding the popular music's Eurovision Song Contest held in old-town Riga last week. She played as part of the national Latvian music presentation.
Zilgalve is an active member of the popular café-style Adventist Church in Riga where she often displays her musical talent. The church, located in the heart of Latvia's capital, is attracting youth of the city. Using art, drama and music, a group of young Adventists are sharing their talents and their faith with peers who otherwise would stay away from traditional religion. They want to do it in a new way, such that would be understood and challenging, they explain.
"In order to stay in good form, I practice a lot," she says of her musical skills. "I was attracted to this instrument after I heard it when I was a little girl. I studied for seven years, and now I can say that kokle helps me to express myself best," she explains. Zilgalve is preparing herself for a performance in June at the country's National Song and Dance Festival.
Copyright © 2003 Adventist News Network.
Ray Dabrowski/ANN