Church Leadership Training in Lithuania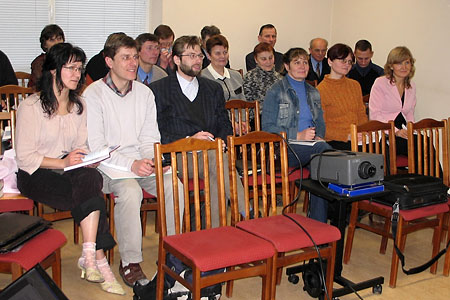 Kaunas, LITHUANIA. Two days Adventist pastors and Bible workers in Lithuania spent in training seminar about the time management and evangelism. Lectures were conducted by the Baltic Union Conference (BAUC) president Valdis Zilgalvis and BAUC secretary and Global Mission leader Andrejs Arinsh.
A. Arinsh emphasised the need for witnessing about personal relationships and experience with God. This is 21st century evangelism. It is also very important to visit church members at home and provide personal care. A. Arinsh advised younger pastors to consult older colleagues who have experience in this area.
V. Zilgalvis talked about the effective time management in the work of the church leaders. Nowadays time has increasingly high value. People can do many things more effectively by employing modern technologies. It happens all around us, and if we hesitate to take advantage of modern technologies, others leave us behind — we need considerably more time to do the same tasks. We have to analyse how we use our time. It's good that we spend 15% of our time for routine tasks, 25% for our direct work, and 60% for the planning and development. But often in our day-to-day work we find it other way around: for routine tasks we spend 60% of our time, for our direct work we spend 25% of our time and 15% or even less is left for the planning…
This training seminar was attended by almost all church leaders. After the lectures leaders admitted that lectures were short, but very practical and needful. This topic is very needful, as it requires to analyse our work schedule and the spending of our time.
Adventist Church in Lithuania was established in 1925 and currently unites approximately 1000 church members in 24 churches.
Guntis Bukalders,
Baltic Union Conference Communication Director