Communication Seminar in Latvia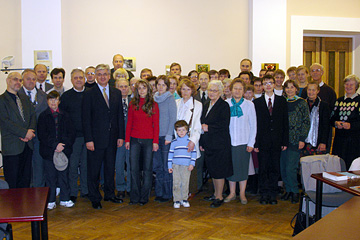 Riga, Latvia. [October 24, 2004] More than 40 church memebers and pastors who are involved in communications came together to have Communication training seminar. Seminar was conducted by Miroslav Pujic, TED Communication director, Guntis Bukalders, BAUC Commmunicatin director, and Aidis Tomsons, Latvian TV and Latvian Radio journalist. Communication leaders learned ways of effective communication of our message to the changing world, learned church and mass media realtionships — how to approach mass media, and communication strategy in the Latvian Conference.
"This seminar helped us to see which doors are opened and which ones are closed for us to reach the post-modern society," said Uldis Liepins, Latvian Conference Communication department director. "Studying changes in the post-modern society we could see how we could work in an more efficient way. We should never neglect the opened doors and we have to learn how to make every effort for keeping the unity of the Holy Spirit, who in these post modern days still is willing to guide us into all truth."
Baltic Union Conference is providing training seminars for the church leaders and lay members in the Baltic countries. Last year similar seminar was conducted in Lithuanian Mission Field. "We are going to continue educating our church leaders and church memebers in the communication area. There are still lots of things we can do to improve situation in communications. We hope to have another seminar next year," concluded BAUC president Valdis Zilgalvis.
Guntis Bukalders,
Baltic Union Conference Communication Director