Evidence Based Health Matters…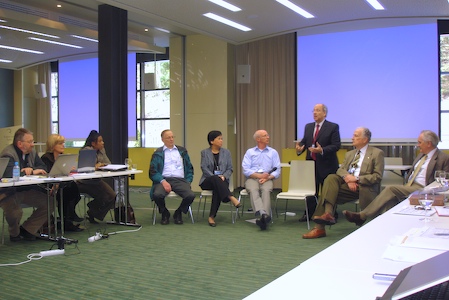 Rogaska Slatina, Slovenia — Current health topics were on the agenda when about 40 health professionals, including health leaders from many countries in the Trans-European Division (TED) of the Seventh-day Adventist church met last week and were brought up to date on evidence based health matters.
Six members of the Adventist world church Health Department led out, presenting lectures, holding workshops, and hosting question and answer sessions on such diverse topics as alcohol, addictions, healthy lifestyle, health fads, and health outreach in the community. The overall themes that emerged were integrity, including the use of reliable and authoritative statistics, openness and acceptance, and working inside and outside the Church with those who are facing challenges in health issues.
The meetings were conducted in English, and two simultaneous translations were run throughout the five days. One participant said, "There was a feeling of openness and sharing between the speakers and the listeners, it was great!" The sharing during the week included personal experiences, reports, as well as valuable material being distributed to all participants to provide each worker with resources to aid the promotion of health in their local work.
Sharon Platt-McDonald, Health Director of the British Isles, commented "the twenty-seven lectures and sessions were informative, engaging and very inspiring a wealth of experience and research was shared which gave us a new vision and passion for our health ministry".
Pastor Paul Clee, Health Director of the TED, commented: "Now is the real work, sharing what we have learned with our churches, and making friends in the community through the medium of health. This was a time of learning and invigoration, now let's face the challenges and move forward together!"
There were two representatives from the Baltic Union Conference too — Guntis Bukalders (BAUC) and Annika Noorkõiv (Estonian Conference). There were discussions to invite several Health department leaders to visit Baltic Union Conference. Because of their busy travelling schedule, visit will be in the year 2008, devoting 2 days for each country.
TED News / BAUC News,
(reprinted from TED News, edited)