General Conference Session: Where are the Young People?
July 3, 2005 St. Louis, Missouri, United States ….

There are reportedly about 35 people — out of nearly 2,000 — under age 30 serving as delegates to the Adventist world church session in St. Louis, Missouri. The delegates come from the church's 13 divisions across the globe to represent a church of some 14 million members. Estimates suggest that more than 70 percent of Adventist world membership is under 30, while less than 2 percent of the delegates to the Session are in that age range. Looking at the faces of the 2,000 delegates who will over the next few days make decisions on policy affecting the Seventh-day Adventist Church for the next five years, Mark Howard and Aira Arina stand out.
Howard, the student body president at Oakwood College, in Alabama, United States, and Arina, a church planter from Latvia, are the youngest delegates attending the 58th business meeting of the world church.
"Being here at these meetings is a great opportunity to see how the church operates behind the scenes," said Howard, a history major. "You get to meet more people as well as give a young person's perspective on different issues discussed by the church."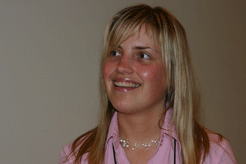 Arina is the youth director of the Adventist Church in the Baltic countries of Latvia and Lithuania. She helped establish the "Korinth Church," which world church President Jan Paulsen visited in May. Arina said she wants to make a difference and make Christianity available to all.
"Riga is the 'Las Vegas' of Latvia, so having this in mind, we wanted to create an informal environment where people from different backgrounds would feel welcomed. We wanted to show them that God is real and make Christianity alive," she said. Korinth has about 60 members, 31 of whom are baptized.
"It's important for the youth to be willing to get involved, and that starts at the local level. We are the church of tomorrow, and need to participate now so that we will know what we're doing later on," Howard said.
Even though these delegates are younger than the main delegate body attending the General Conference, they said it's not hard to get to know more experienced members. And, since they participate in their local churches, both are familiar with the issues discussed and the process involved.
Young adult delegate representation is less than in the 2000 world church session in Toronto, Canada, where there were 45 delegates under 30. During one of the daily business meetings at the 2000 Session, Andrej Godina, a Croatian living in the United Kingdom, 24 at the time, made a motion that young adults be represented as delegates in all future world church sessions. But, he suggested, without such measures being written into the church's constitution, there are no guarantees that world church regions will not act indifferent to young adults.
Pastor Jan Paulsen, president of the world church, challenged young people in his opening address to the world Session June 30: "I want you to come in and to partner with the rest of us. I want to make room for you, for you have energies and ideas which no one can quite match. If you don't find the church interesting, you can make it interesting. Just don't walk away. That would be the worst possible thing you can do: It is Christ we are talking about. Don't turn your back on Him, for if you do, all you then all you are left with is Peter's haunting question: 'To whom shall we then go?'" (John 6:68)
Paulsen has made a conscientious effort to send a message to church leadership around the world. "They [young people] represent in large measure the future of this church," he says. "There must be a more intentional dialogue with young people, and a greater recognition of the contribution that they can and do make within the church."
"I recognize that many, many of our young people feel distanced from the church — they feel as if they don't have a voice, they don't feel that they have been heard, they don't feel that they have been understood," says Paulsen. "But I want them to know that the church cannot be defined and cannot survive without them."
"It is time to include them in the decision-making process," says Baraka Muganda, world church youth director. "When we involve them, they will own the mission of the church. Young people will feel that this is their church. They will support actions taken. When they see themselves getting involved, then the church becomes a reality in their lives."
He adds, "They [will] say 'our church,' not 'their church.' We will see a lot of fire among the churches because of their support."
Irena Nesterova/Wendi Rogers/Taashi Rowe/ANN