Gospel for The Post-modern Society
Bible Seminar in Ventspils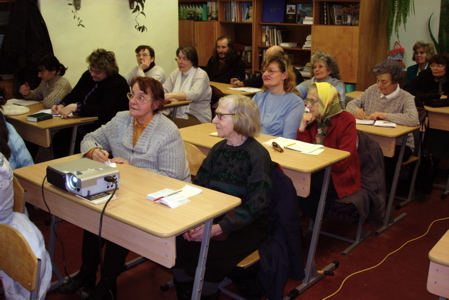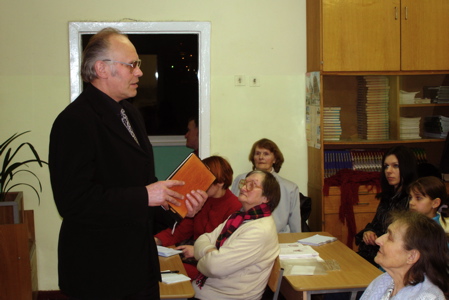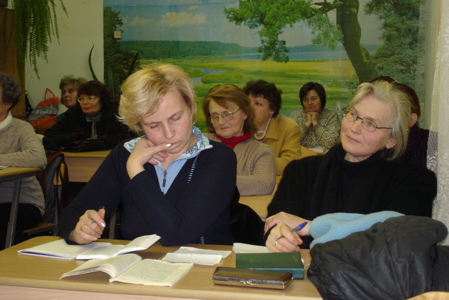 Ventspils, LATVIA. Two months, four times per week group of 40-50 people came together in Ventspils to listen to the message from the Gospel of John. In the last day 3 persons were baptized and 10 more people are participating in the baptismal class, which is organized by the local church pastor Ojars Incenbergs.
Baltic Union Conference president Valdis Zilgalvis and Union secretary and Global Mission co-ordinator Andrejs Arinsh organised Bible seminar in Ventspils, the second biggest port city on the West coast of Latvia.
"The main success we see here is in the team work. We had good cooperation with the local church members and local pastor. Before the evangelistic campaign local members visited their non–Adventist friends and asked questions that they would like to be answered in the forthcoming meetings. They asked questions and we prepared answers, based on the Gospel of John. Local church members, their pastor and church leaders working together can receive the spiritual renewal and strength," said Valdis Zilgalvis, Baltic Union Conference president. "We also used wide variety of visual materials. Every meeting we had PowerPoint or Keynote presentation, all points we discussed were shown on the screen. Verse by verse we went through the all Gospel of John. As Andrejs Arinsh has MA in counselling, he also explained gospel from the psychological point of view. Many people liked visual presentations prepared by Guntis Bukalders, Baltic Union Conference Communication director. There were many people involved in this seminar, I should mention Latvian Conference President Viesturs Rekis who talked about family relationship issues, and local church pastor Ojars Incenbergs, to whom I am thankful as he continues this work further," V.Zilgalvis added.
"The Gospel of John really is the answer to today's problems. Step by step it builds up the faith in Jesus Christ. People who never knew about God accepted Jesus as their Saviour. If we look carefully, the Gospel of John includes all 27 fundamental beliefs of the Adventist Church," said Andrejs Arinsh, Baltic Union Conference secretary and Global Mission co-ordinator. "The title for this seminar we chose "Love for the Life." The first meeting was organized as a concert where people could donate their money for Brazhnikovs family which takes orphans from the orphanage and prepares them for life. This way Bible seminar "Love for the Life" was started," Andrejs added.
"People had really big interest. As we finished this seminar, people came to me and asked what do we have for the future. So I started Revelation seminar, and although we had to change seminar location, the hall was packed full!," said Ventspils' church pastor Ojars Incenbergs. "Today people don't make their decisions quickly. They have interest and now we continue to study writings of Apostle John, we started to study the Book of Revelation of John. We also have baptism class where we go through all our 27 fundamental beliefs, and I believe that many more people will make their decision for Jesus Christ. I'd like to express my thanks to the Trans-European Division Global Mission committee for the resources they provided to make this seminar reality."
Some church members of Ventspils church said that it was the happiest days of their life. People who did not believed before were very happy and asked that we would pray for them. They also started their own prayer life. Some people from other denominations said that they had never heard such things and teachings of the Bible. 3 people who accepted Jesus as their Saviour were baptised in the warm swimming pool, while outside was -20C cold. Many visitors said that two months in this Bible seminar passed very quickly.
Now the team is moving to Rezekne — city in the South-East part of Latvia. We would like to ask your support in prayers as we start new Bible seminar in this new area.
Ventspils is the sixth largest city in Latvia with population more than 44.000, it is sea-port city on the West coast of Latvia. There is Adventist church in Ventspils with almost hundred church members. Currently it gathers in the Baptist church building, but church has got land property and currently is saving money to start their own church building.
Guntis Bukalders,
Baltic Union Conference Communication Director