Health Evangelism Training Camp in the BAUC
Health Evangelism Training Camp
What is an Adventist Health Message? Is it only for Adventists or can it benefit others as well? How to have a balanced and Christ-centered approach in Health Ministry? Why does this message that should unite us, sometimes cause conflicts? What is a Health EXPO and how to organise one? What can I do to answer Jesus' call: "Heal the sick, raise the dead, cleanse those who have leprosy, drive out demons. Freely you have received; freely give" (Matthew 10:8)? And where can I learn about it?
Have you ever asked these questions?
I think, many Adventists have, and therefore, we were looking for the opportunities in our Union to provide a Health Evangelism Training Camp that in this summer finally happened.
But everything started much earlier; in July 2015 at the General Conference session in San Antonio I met James Hartley, the President of the LIGHT organisation (for those, who do not know the organisation, there is a webpage about their work:
http://www.outpostcenters.org/ministry/light/) at the Exhibition Hall, introducing the organisation and their objectives, which seemed to offer a good and balanced training on health matters as well as an overview of the principles of Adventist faith. A month-long training seemed too long at first, but Jana and Ansis from Latvia were convinced that we can find those 20 interested and enthusiastic students, who were needed for the training to take place
With the help of Linda from the Light organisation, Ansis and Jana from Latvia, and many others, who were trying to find the venue, worked in the kitchen, gave lectures, translated, dealt with finances and supplies, and provided transport, and accommodation for the lecturers, the training camp, after a long preparation period, finally took place in July and August 2016. As always, there were some critical moments, but God carried us through everything. Praise to Him!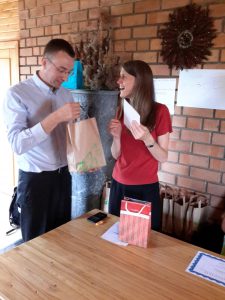 Young people and those young in heart from all three conferences of our Union made their way to the picturesque spot by the lakeside, where we were to have lessons.
As a pleasant surprise, the participants from the Baltic Union were joined by Marko and Ruut from the Finnish Union.
Although every participant was very important, maybe one of the most significant one was white and fluffy Riki, who made sure that no-one entered the campsite without his consent, and who definitely helped to create a health-enhancing atmosphere.
The youngest participant of the camp was little Eliise, together with her parents, bravely putting up with all difficulties that there can be in the camp.
The lecturers were from the LIGHT organisation as well as from our own Union. In addition to this, we welcomed in our midst also Dr. Fred Hardinge from the General Conference and Dr. Torben Bergland from Trans-European Division. Their lectures were very well received by students as well as people in Rezekne, where they both gave two open lectures.
The training was quite intensive; days started half past six in the morning (which had been the best sleeping time for some) and although the official nighttime was supposed to be at half past nine, hardly anyone got to bed on time. Yet, nobody complained – I think, we had the best participants possible! There was music and singing in the morning and evening worships ,and often the students provided interesting activities or thought-provoking stories during these times. We prayed about each other and supported each other; we laughed together and had sad feelings together – it was a time that definitely brought us all closer to each other.
The camp was not all about theory; everybody could try out massage, hydrotherapy, vegetarian cooking, and take part in organising Health EXPOs.
The main lecturer Linda said later reflecting on the camp, "The two health EXPOs we had the opportunity to participate in, were a real blessing, with 133 from the community going through the EXPO in Rezekne."
In the end everybody got a certificate, to prove that they had been there and have learned something useful for themselves and for sharing with others.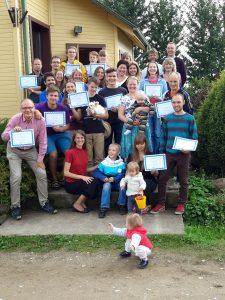 Evaluation sheets about the camp were filled in by students, answering the questions; how the course had impacted their life, what changes they will make as a result, and how they will practically use the information received, among others.
Here are some of the replies students wrote (of course, English not being their mother tongue, restricted their expression):
* It gave me time to understand, where I'm going in my life
* I'd like to help the local church understand what Health Ministry is
* I felt that my health improved during this month
* I want to help in health EXPOs
* I want to grow and go forward
* I want to change my sleep schedule (hopefully)
* I want to focus more on people – love them
* It motivated and inspired me
* I'd like to share God's message
* It showed me a different perspective and other views about health ministry
* I got hope that my friend will come to Jesus
* I will start cooking classes in my church
* I will evangelise my friends
* This camp educated me in a very important topic in my life
* I will start cooking total vegetarian food
* I will read my Bible more and research it
* We will make health clubs in our town
* I would like to be a missionary
* I will promote health evangelism
My life was going further away from God, but this brought me closer to God and I started thinking more about my future
Külli (Estonia) says that her wish had been to go on a pilgrimage, but being a mum of a little child, this was not an option. "Yet, the time spent in the camp can be called a pilgrimage. Away from hustle and bustle of everyday life, this gave me more opportunities for prayer, reading and thinking about life. It helped me to see things that need changing in my life. It seems like my wish has come true. God knew what I needed. Apart from personal growth, I also learned about nutrition, hydrotherapy, health mission, Bible prophesies and, of course, about different common diseases and their prevention. I hope to share this with others if somebody is interested. Dr. Hardinge emphasised that we can do mission work only if we love people from our whole heart, and would like to be their friends and help them. Doing this, we can introduce our greatest Friend to them. Thank God for this camp and for all the people, who were sent to support each other and help them grow! Everybody made their little, but immensely important contribution."
Photos by Marko Helle