Latvia and Lithuania: Adventists Recognised As One Of A Traditional Churches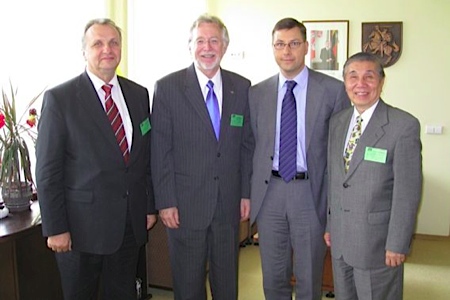 Latvia and Lithuania: On Thursday, September 4, a delegation of the Adventist Church led by Union Baltic President Valdis Zilgalvis met Officials of the Lithuanian and Latvian governments in Vilnius and in Riga.
General vice President of the Seventh-day Adventist Church Dr. Eugene Hsu and Public Affairs and Religious Liberty Director Dr. John de Graz met with Jānis Šmits, the chairperson of the Human Rights and Public Affairs Committee and the member of the Citizenship Law Implementation Committee of the Latvian Parliament. In Lithuanian they met with the Honourable Gintaras Steponavicius, MP, Head of Religious Affairs of the Lithuanian Parliament.
Church leaders congratulated both governments of both countries for practising religious freedom for all and for having recognised the Seventh-day Adventist Church. If the majority of the population in Lithuania is Catholic, Lutherans and Catholics are the main Churches in Latvia. The Seventh-day Adventist Church has been recognised as one of the seven traditional churches and religions in Latvia, and as the state-recognised church in Lithuania. In both countries the Adventist leadership have developed excellent relations with the State authorities and religious leaders.
"I thank Latvian and Lithuanian parliaments for the recognition of our church. I also thank Lithuanian Mission president Bertold Hibner for his successful work to reach state-recognition in Lithuania.
"The recognition of our church by the government has had a positive effect on our status in the community both in Latvia and in Lithuania. It has been a long road to this goal, which involved all church leadership levels, starting from the General Conference, Trans–European Division, Baltic Union and the local Conference and Mission," said Baltic Union president Valdis Zilgalvis.
Guntis Bukalders,
Baltic Union Conference Communication Director