Adventist Lithuanian Poet's Fifth Collection Draws Acclaim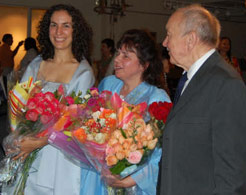 August 26, 2008 Silver Spring, Maryland, United States
A Seventh-day Adventist poet's fifth collection of poetry is drawing acclaim among religious writers in her native country of Lithuania.
Lifting subject material from nature, Scripture and personal spirituality, Zita Kazimiera Kirsnauskaite writes passionately in "On the Wings of an Angel" about themes seemingly at odds: hope and uncertainty, discouragement and perseverance. But through the poems — or, more likely, the process of writing them and struggling with the underpinning feelings — Kirsnauskaite ultimately reconciles them.
It's evident that Kirsnauskaite is largely inspired by Biblical themes, and she intersperses Scripture throughout the collection. Often, a verse will precede a poem, by way of explanation or to add another layer of meaning or reflection.
Since moving to Chicago in 2004, Kirsnauskaite's poems have appeared in numerous publications within the American Lithuanian community. Lithuanian essayist and literary critic Alfredas Guscius called Kirsnauskaite a "fine talent" with a "unique" perspective after hearing one of her poetry recitations.
Born 1950 in Prienai, Lithuania, Zita Kazimiera Kirsnauskaite battled religious persecution during her country's Soviet occupation. As a young woman, she remembers secretly writing poetry and translating religious literature, then knitting while waiting at train stations with the banned books and pamphlets hidden in her luggage, trying not to draw attention from pacing Soviet security guards.
When Lithuania declared independence in 1990, Kirsnauskaite, urged by her friends, published her first collection of "devotional poetry." Some of her earliest work was seized during house searches, but more poems followed. Her fourth collection, "The Shining Song," is a collaboration with Lionginas Abarius — the renown Lithuanian composer and conductor wrote music to accompany the "lyrics" of her poetry.
With titles such as "I Am Writing My Life," the poems in Kirsnauskaite's latest collection are candidly personal. Also very transparent, her poetry may not appeal to audiences who favor more standoffish or oblique writing.
A nurse by profession, Kirsnauskaite says poetry fills her spare time and serves immeasurably to calm and comfort her, and, she's been told, her readers.
While most of her poems use metaphor sparingly, when she does indulge in figures of speech, many are memorable. In "The Vanishing Gratitude," she writes, "Gratitude / will soon be listed / among / the endangered species." In another poem, she talks of "submerging" herself in prayer. The underwater imagery illustrates a relationship of dependency, where she turns to God at every moment, even for every breath.
Kirsnauskaite also writes against apathy. In "Elegy," she laments the passing of the days and how, when disappointment becomes predictable and commonplace, "No one will notice the sorrow" but "Heaven." The poem seems to say that even when she's temped to resigns herself to sorrow, she is reminded that God has something better in mind.
While some of the essence of Kirsnauskaite's poetry might be diluted in the English translation, some readers will likely find the collection a reassurance of their faith.
Source: Adventist News Network,
ANN Staff