The Blessings of the Year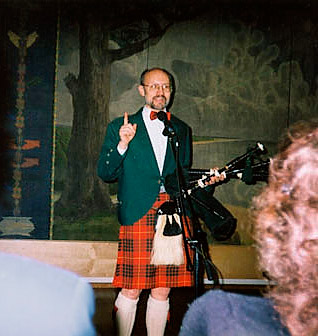 Kaunas, LITHUANIA. In 2003. 11. 16 in Mikalojus Konstantinas Ciurlionis muzeum in Kaunas was an evening of religious poetry and music called "The Blessings of the Year".
Mr. William Downie, the secretary of an ambassador of USA, was also invited together with his wife. Mr. Downie also participated in the program and played religious songs with his bagpipe. Nomeda Vilkanauskaite, the singer from Kaunas' musical theater, and violinist Laima Sabaliauskaite performed pieces from Handel, Rodgers, Gunno and Giedrius Kuprevicius. Verses from the Bible were read and religious poems were uttered by the poets Zita Kirsnauskaite and Romualda Adomaityte–Chabarina. Valdas Noreika led the evening.
This wonderful evening was sponsored by the publishing house "Amzinoji Uola". There was an opportunity to buy different books also. People form different walks of life attended the evening of religious music and poetry. One thing they had in common, though, and it was a desire to be together in this concert. The museum hall was full. People were even sitting on the stairs.
People listened with the delight and it did not matter was it classics or contemporary, all performed pieces spoke to their hearts. Very warm welcome received the secretary of USA ambassador, Mr. Downie. He shared his experience that he was looking already for some time to find some good place in order to play his bagpipe, gym or church would
have been just fine. There it sounds the best. However, when it is warm, Mr. Downie likes playing outside.
This evening lasted for two hours. But that did not matter to people. They were happy that they had chosen to be here this Sunday afternoon. This evening showed that people like and want that kind of programs.
Mantas Kučinskas,
Lithuanian Mission Field Communication Director