Desmitās tiesas teoloģijas seminārs Igaunijā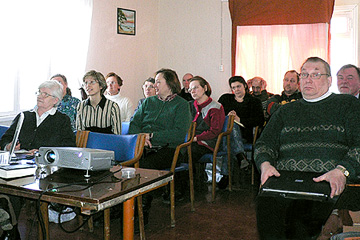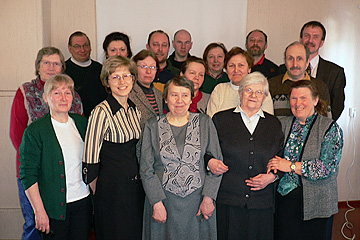 Jihvi, IGAUNIJA. 3. aprīlī Igaunijas pilsētā Jihvi notika Baltijas Ūnijas namturības nodaļas organizētais seminārs "Desmitās tiesas teoloģija", uz kuru tika aicināti ne tikai mācītāji, draudžu vecākie un mantziņi, bet ikviens interesents. Seminārā piedalījās ap 20 cilvēku no Narvas, Jihvi un Silamae draudzēm, un kopīgi tika meklēts Bībeles viedoklis par desmitās tiesas nozīmi un mērķi.
Seminārs parādīja, ka desmitās tiesas došana ir apliecinājums uzticības un mīlestības pilnām attiecībām ar mūsu Kungu un Glābēju. Desmitā tiesa vienmēr ir jāatdod Kungam, jo tā ir svēta, un Dievs ir Tas, kurš to izlieto garīdzniecības uzturēšanai.
Pēc semināra vietējās draudzes mācītājs Vitālijs Mirošnitšenko teica: "Seminārā dzirdējam daudz jaunas informācijas par desmito. Tas bija objektīvs un tik interesants, ka aizmirsās pat jautājumi, kurus gribējām uzdot. Tos atcerējamies tikai tad, kad viss jau bija beidzies."
Namturības nodaļa ir plānojusi šādus seminārus noturēt visās trijās Baltijas republikās dažādās draudzēs. Nākošais seminārs ir paredzēts Paņevežos, Lietuvā 23. aprīlī.
Aicinājums!
Ja Jums ir kāds piedzīvojums ar Dievu sakarā ar desmitās tiesas nodošanu vai nenodošanu, lūdzu pierakstiet to un atsūtiet man uz šo e-pasta adresi: zigurds@baznica.lv, vai arī sūtiet vēstuli Baltijas Konferenču Ūnijas namturības nodaļai.
Zigurds Laudurgs,
Baltijas Konferenču Ūnijas Namturības nodaļas vadītājs